Welcome
August 2008
TANDRIDGE CORE STRATEGY AND WHAT IT COULD MEAN FOR WARLINGHAM

Tandridge Core Strategy Update - Word doc 43k
April 2008
Warlingham Parish Plan goes live!
Warlingham Parish Council have endorsed the ideas in the Parish Plan as a basis for its work and so it's into serious action mode from now on.
Please do read the Plan and contact me if you would like to be involved in one of the streams of activities in any way. Being able to coordinate groups of local people who want to be involved in similar things, it's a chance to make a difference to Warlingham and to make friends in the process.
The Parish Council will be leading most of the actions (other than those dealing with safety which will be down to Surrey Police) and reporting progress at their meetings which are held on the first Tuesday in every month.

Warlingham Parish Plan April 2008 (2.7Mb)

Warlingham Parish Plan - Executive Summary - April 2008 (200k)
If you know someone who would like a large print copy or an audio version of the Parish Plan (CD format), let me know and I can arange for a copy to be delivered to them.
So here's to a brighter, better Warlingham!
Isabelle Wragg
Secretary, Warlingham and Whyteleafe Parish Plan Steering Group
Gap House, 7 Redvers Road
Warlingham CR6 9HN
isabelle@wragg.com
Publication of the final Parish Plan "Improving Our Village" is very timely as it coincides with the Public Examination of Tandridge's "Core Strategy" which is all about planning for the future needs of the whole of Tandridge.

A lot of what Tandridge is proposing seems, at first glance, to be good and some is. But there are areas of fundamental concern to people in Warlingham, notably about the lack of consultation on the proposed focus for development in Warlingham (contained in its "Key Diagram") without improvements in the quality of infrastructure or addressing the need for housing for all age groups so that our lively and balanced community is maintained. Tandridge's Core Strategy is also short on how to plan for future local employment and maintain the vitality of centres such as the Green. We have an alarming increase in the number of empty shops and so we need more than warm words to be able to reverse what is an accelerating trend. Also, the regard developers would be obliged to have towards wildlife and the environment, would need to be much stronger if we are going to protect the habitats offered by Warlingham's open spaces.

The Parish Plan Steering Group made representations to Tandridge on the basis of the evidence of local people as the Plan was being developed. To read what these were, open the document Objections to Core Strategy. The Inspector will be looking at all the representations made and deciding which are valid for either asking Tandridge to amend its Core Strategy or to start all over again. That would be a great shame as there are good parts to it, but it seems that government guidance means that a half-way house isn't an option open to him.
January 2008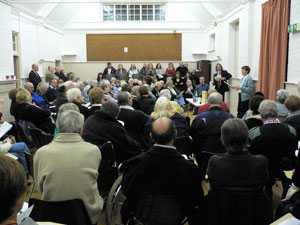 Well over 120 residents attended the public meeting on the Draft Parish Plan at the Village Hall on 30th January. This included most of our District Councillors and although Peter Ainsworth - our MP - wasn't able to attend, he sent his support to the Draft Plan. Richard Allen, District Councillor for Warlingham West and local resident as well as our local Police officers, also spoke in support of the Plan. Our local doctors have generously pledged money for planting to cheer the village up and young people from Warlingham School volunteered to help with various community activities that need more help in the village. So even at this draft stage, the Parish Plan is having an effect.

Warlingham Parish Plan Draft 10 Jan 2008 (4.2Mb)
Each of the five points of the draft plan was summarized and followed by a general discussion. There was overwhelming support for the proposals in the Draft Plan and people were asked to indicate their order of priorities for the actions that the Parish Council will be asked to lead. The initial response to the priorities was:
To develop guidelines as to where development should or should not be developed in Warlingham
Protecting open spaces and wildlife
Traffic speeds and pedestrian safety
A meeting place for teenagers to call their own and
Improving the appearance and vitality of the village Green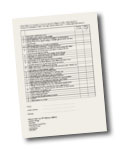 To add your priorities, please download the attached list and, once you've completed it, either e-mail it back to mail@warlinghamparishplan.org.uk
or by post to: The Secretary, Warlingham Parish Plan,
7 Redvers Road, Warlingham, CR6 9HN
Tel (01883) 622 221
by 15th February 2008.